Geology of Granite Mountain
Granite Mountain was once called Mount Gurley after the first governor of Arizona Territory. It is part of the Sierra Prietas, an uplifted fault block of basement crust in the Basin and Range Province. The mountain is made up of the Mint Wash Granodiorite, a hard crystalline rock that varies from granodiorite to granite in composition (Spencer and Young 2012). This rock is dated about 1.7 billion years old. Granite Mountain is part of the Yavapai tectonic province, which extends from northern Arizona across central Colorado, beneath northern Kansas, and all the way to the western Great Lakes (Baldridge 2004).
Ground views of Granite Mountain from our
KAP site. Overview (left) and closer shot (right).

The Basin and Range Province includes most of Nevada, southern Arizona, and parts of adjacent states between the Sierra Nevada and Colorado Plateau. This region underwent tension and was stretched east-west approximately 250-300 km (~150-190 miles) during the past 30 million years; most of this expansion took place within the past 16 million years (Baldridge 2004). Extension of the crust was connected with the North American plate overriding the Farallon Plate and East Pacific Rise along subduction zones on the western margin of the continent.

Two major consequences of crustral stretching were firstly deep-seated faults along which basins (wide valleys) dropped down and intervening ranges of basement rock rose up. The Sierra Prietas is one such uplifted fault block, and the Chino and Prescott valleys to the east occupy a basin. Secondly magma migrated upward along faults and erupted in numerous volcanic centers. For the most part, the magma was derived from the mantle (beneath the crust) and is basaltic in composition. Hyrdothermal fluids from shallow magma led to widespread mineralization including turquoise and copper, for which Arizona is well known.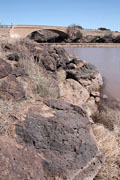 Young basaltic lava flows in the Chino Valley (Gootee et al. 2010). At Lake Sullivan (left) and in the narrow gorge of the Verde River (right) below the lake. Elevation 4340 feet (USGS TopoView 2022).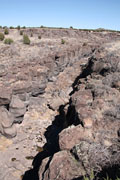 Lava flows of Miocene and Pliocene age (23 to 2½ million years old) partly cover the lower flanks of Granite Mountain (Spencer and Young 2012). These lava flows take two forms. Vesicular (bubbly) basalt is dark gray to nearly black in color. Given its high iron content, basalt has a high density and is heavy in spite of its swiss-cheese texture. Scoria has a rust-red (scorched) color and a foamy texture that gives it a lower density. The sand and gravel in ephemeral washes reflect these two sediment sources, namely ancient Granite Mountain and relatively young basaltic lava.
| | | |
| --- | --- | --- |
| | Boulders of vesicular basalt (left) and scoria (right). The latter displays flow bands that solidified as the lava cooled. From the unnamed wash at the KAP site; comb is about 5 inches long. | |

References
Aber, J.S., Marzolff, I., Ries, J.B. and Aber, S.E.W. 2019. Small-format aerial photography and UAS imagery: Principles, techniques and geoscience applications (2nd edition). Elsevier, Amsterdam, 382 p.

Baldridge, W.S. 2004. Geology of the American Southwest: A journey through two billion years of plate-tectonic history. Cambridge University Press, Cambridge, U.K.

Gootee, B.F., Ferguson, C.A., Spencer, J.E. and Cook, J.P. 2010. Geologic map of the Chino Valley North 7.5' Quadrangle, Yavapai County, Arizona. National Geologic Map Database. Online access.

Spencer, J.E., and Young, J.J. 2012. Geologic map of the Jerome Canyon 7.5' Quadrangle, Yavapai County, Arizona. National Geologic Map Database. Online access.

USGS TopoView 2022. U.S. Geological Survey, Get Maps: topoView. Online access.
---
All text and images © J.S. and S.W. Aber.