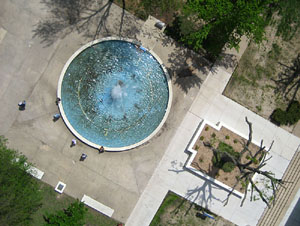 Northeastern Oklahoma
A & M College

Miami, Oklahoma

J.S. and S.W. Aber
Gina Manders




In late April 2008, the authors conducted blimp aerial photography under clear sky with light and variable wind on the campus of Northeastern Oklahoma A & M College, at Miami, in the northeastern corner of the state--see NEO. Tar Creek runs along the eastern side of the campus, and this stream experienced a major flood in the summer of 2007. We were assisted by students taking a short course on small-format aerial photography.
Canon Digital Rebel superwide-angle views
| | |
| --- | --- |
| | Overview of athletic fields toward the southeast. |
| | Overview toward northeast with Tar Creek in the background. Houses in foreground were inundated in 2007. |
Canon S70 wide-angle views
| | |
| --- | --- |
| | Looking southwestward over the main campus area. At left-center are fountains shown below. |
| | Two baseball fields on the eastern side of campus. Tar Creek is the tree-lined channel just behind the fields with horse pastures beyond the creek. |
| | View to northeast. Tar Creek runs across the top side of scene. All this area was under water during the 2007 flood, and some houses are now condemned. |
Canon Digital Elph standard views
Tar Creek
| | |
| --- | --- |
| | Tar Creek is the rust-colored water in the channel at upper right. Overflow channels are filled with clear water across center of scene. Blimp shadow appears in lower center of view. |
| | Vertical view of a bridge and power lines over Tar Creek. |
| | Another vertical view of bridge over Tar Creek. Sun glint highlights rapids in the creek to upper left. |
| | Vertical closeup view over rapids in Tar Creek. Sun glint shows through sparse leaves on trees at this time of year. |
| | Looking southward showing Tar Creek on right. Sun glint reveals a small, meandering tributary to upper right. |
Canon Digital Elph standard views
Central campus
Two fountains accent the central portion of the campus. To right three columns rise from a rectangular reflecting pool. On left sprays of water jets arc across a circle.
Closeup vertical view of rectangular fountain. The three columns support chimes (speakers) in the center. Students in the class are sitting on edge of fountain.
Oblique shot toward the circular fountain showing a flat-topped building with a tree growing through a courtyard.
Vertical view centered on the circular fountain.
Closer vertical shot of circular fountain. Skeletal tree at top was damaged by an ice storm.
Closest vertical view of circular fountain showing water jets.

NEO A&M College (2006).


Return to KAP gallery.
Last update: May 2008.