Kite Aerial Photography
Estonian Agriculture
Jaan Liira, J.S. and S.W. Aber
Introduction
Estonia has a productive agricultural tradition and industry, in spite of its relatively high latitude (58°N) and short growing season. Winter wheat and rye are major crops along with potatoes, carrots, onions, apples, and berries. Cattle are raised for dairy and meat. Other livestock include pork, sheep, goats, chicken, ducks and geese. Great changes in agricultural land use have taken place during the past 10 years, since Estonia gained independence and established a free-market economy. Many former collective farms have been abandoned, while others are now managed by agri-business companies. Many small farms were established, but proved to be uneconomical to operate. The result is that former pastures and cropland are no longer utilized for agriculture and are undergoing a natural succession of shrub and forest growth.

Intensive agriculture is practiced in areas with more productive soils and gentle slopes. In these areas, several study sites have been selected to monitor the conditions for wildlife and plant communities in small forest patches, tree rows, ponds, streams, and other environments that exist next to agricultural land use. These natural sites are considered important to maintain biological diversity in areas where agriculture is the predominant land use.

In September, 2001, the authors conducted kite aerial photography at two study areas in eastern and southern Estonia. Weather was variable with conditions ranging from full sun to overcast sky. Both digital and film cameras were used to capture images in visible light, as a means to better comprehend the mosaic of vegetation and land-use patterns in these areas of intensive agriculture.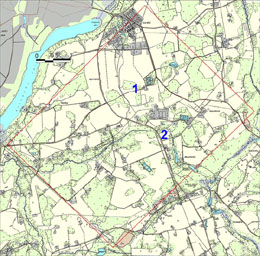 Map of Viiratsi vicinity just east of Viljandi lake in south-central Estonia. The soil here is developed in relatively thick glacial sediments on top of poorly consolidated sandstone. KAP was conducted at site 1 directly south of the city of Viiratsi and site 2 near the village of Mäeltküla. A large diary factory is located between the two sites. KAP was conducted on a southeasterly wind under sunny to partly cloudy sky. Click on the small map to see a larger (156 kb) version.
View toward the east at site 1 portraying a typical mix of forest patches and agricultural land use. Kite flyers worked on the edge of a gravel road at bottom of scene. Photo date 9/01, © J.S. Aber.
Southeastward view at site 1. A large diary factory is visible in the distance. Grazing and growing fodder for diary cows is important, as is proper disposal of cattle waste (manure). Smoke is visible in the distant left background; crop residue is often burned in the autumn. Photo date 9/01, © J.S. Aber.
Closeup view of forest patch at scene center. During the summer of 2001, Estonia suffered a series of strong wind storms that heavily damaged some forests. These forests were clear cut to salvage downed trees, which is presumably what happened here. Digital image date 9/01, © J.S. Aber.
Northward view from site 2 showing the diary factory in the middle distance and deciduous forest in the foreground. Photo date 9/01, © J.S. Aber.
Vertical shot of a milk truck heading toward the diary factory on the highway at site 2. Digital image date 9/01, © S.W. Aber.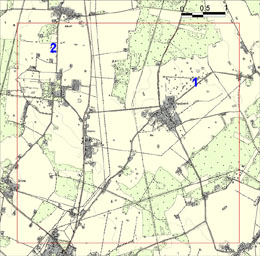 Map of Pandivere vicinity. The Pandivere upland is located in east-central Estonia and consists of a broad plateau surface underlain by thin glacial sediments over limestone bedrock. KAP was conducted at site 1 northeast of the city of Pandivere and site 2 south of the village of Aburi. KAP was conducted on a southeasterly wind under an overcast sky. Click on the small map to see a full-sized (120 kb) version.
View toward the east at site 1. Pastures and fields in various crop stages are separated by tree rows and a road. The white "eggs" (lower left) are large hay bales wrapped in white plastic. Kite flyers are visible in the lower right corner. Digital image date 9/01, © J.S. Aber.
Southward view at site 1. Notice the geometric pattern of mowed hay in the field across the road behind the kite flyers. The round green mounds are spots where farmers have piled up stones cleared from the fields. Digital image date 9/01, © J.S. Aber.
Small farmstead "tucked" into the forest at site 2. This farm is hidden completely from view on the ground. Variations in tree color and shape indicate different conifer and deciduous species. Digital image date 9/01, © J.S. Aber.
North view toward the village of Aburi at site 2. Notice the irregular road network, which is typical of most small villages in Estonia. Digital image date 9/01, © J.S. Aber.
Jaan Liira operates the kite reel beside the road at Pandivere (site 1). Photo date 9/01, © J.S. Aber.
Related sites
---

Return to Estonian KAP.
Go to KAP gallery or Great Plains KAP homepage.
Last update 24 Oct. 2001.