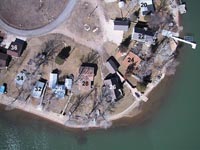 Aerial Photography
Consulting and Sales
James S. and Susan W. Aber
Introduction
The authors have more than a decade of combined experience in kite aerial photography under all types of conditions--see publications. We also use a small helium blimp to acquire airphotos under calm conditions. We are willing to share our experience as consultants. Our consulting service takes two general forms--supervised training and image acquisition. In addition we will consider sales of existing imagery for selected purposes. Capabilities and conditions for consulting and sales are described below.
---
Supervised training
The authors will supervise training of individuals or small groups who want to learn the techniques of kite and blimp aerial photography. Teaching and demonstrations cover field methods in which all types of kites and camera rigs will be employed. A helium blimp may be demonstrated also for low-wind conditions. Additional techniques could include processing of digital images and webpage construction. Supervised training is customized for the level of each person or group. Such training sessions are normally one or two days in duration. Those who want more thorough background and exeriences should take a summer course in small-format aerial photography--go to ES 555.
Image acquisition
Kite and blimp aerial photography may be undertaken for various specialized purposes as requested by clients. This approach has diverse applications for architecture, engineering, agriculture, publicity, appraisal, archaeology, real estate, law enforcement, water resources, forestry, wildlife habitat, recreation, historical preservation, special events, and many other purposes. The nature of kite aerial photography provides for highly detailed imagery of relatively small ground areas. In vertical views, digital image resolution is in the range 5-10 cm and individual photos cover 1 to 2½ acres (0.4 to 1 hectare). In oblique (side) views, large ground areas may be portrayed to show the spatial relationships of features and the surrounding landscape.
| | |
| --- | --- |
| | Property survey of recreational lake-front homes, Lake Kahola, KS. Home lots are numbered and other survey information can be annotated on images. |
| | Overview of Burlington Northern Santa Fe train yard at Emporia, KS. Notice the circular pattern in lower portion of scene. This is the remains of an old roundhouse that was demolished nearly 20 years before this picture was taken. |
| | Vertical view of cemetery, Emporia, KS. Several unmarked graves are indicated (>) in lower right portion by rectangular dark patches in the grass. |
| | Kite aerial photography demonstration for middle-school students and their teachers. The students used kite flying and photography as themes for learning about physical science and math. |
| | Overview of the Pacific Grove Municipal Golf Links and Point Pinos lighthouse, California. Such recreational and touristic attractions are important for the local economy. |
| | Helium blimp with camera rig in flight. The blimp measures 13 feet (4 m) long and can lift the same camera rigs used for kite aerial photography. |
Because of its ease of use and relatively low cost, kite and blimp aerial photography is an excellent means to acquire before-and-after pictures for sites where construction, renovation, or other changes in land use are taking place. A series of aerial images may be utilized to document long-term changes in land cover/use over a period of years.
| | |
| --- | --- |
| | Overview of reconstruction underway in 2001 at the Liberty Memorial site in Kansas City, Missouri. |
| | Liberty Memorial and downtown Kansas City, Missouri following restoration of the main structure and exterior landscaping, June 2003. |
Technical capabilities
The authors have a large collection of kites and kite-flying equipment as well as a helium blimp for conducting low-height aerial photography--see KAP equipment. Our preferred imaging systems for consulting and demonstrations are radio-controlled, digital camera rigs--see KAP camera rigs. These rigs have proven robust and easy to operate for beginners and experienced students alike.
| | |
| --- | --- |
| | Low-oblique (side) view of wetland restoration site taken with color-infrared film. Active vegetation appears in red/pink colors; water and wet soil are quite dark. |
Site conditions and weather
Sites for kite or blimp aerial photography should be relatively free of obstructions--overhead power lines, trees or windbreaks, tall buildings, towers, fences, etc. It's often necessary to have an open flying field adjacent (upwind) to the site for which photos are desired, for example a park or playing field next to the target site. Such sites should have public access, or permission must be obtained to work on private land. There should be no vehicular traffic in vicinity of kite flyers or beneath the kite line. For certain applications, clients may request particular conditions, for example winter imagery with no active vegetation or spring/summer imagery to show vegetation growth status. Autumn pictures are often best for general depiction of natural landscapes. Each site situation is evaluated for potential benefits of kite or blimp aerial photography.

For kite aerial photography, suitable weather conditions combine clear sky with wind 10-20 mph (15-30 km/h). The helium blimp operates best in wind less than 10 mph. Minimum temperature is 50°F (10°C) and maximum is 95°F (35°C). These conditions are impossible to forecast accurately more than 2-3 days in advance, so flexible scheduling is essential. For a given site, particular wind directions may be necessary.
Cost and availability
Our consulting fee is based on a daily rate plus expenses. The daily rate varies depending on the circumstances and nature of the client. The current base rate for commercial consulting is $250 per day. Lower rates may be charged for educational, research, or governmental clients. In some cases, we will consider doing free demonstrations for schools and public-service groups, such as Boy/Girl Scouts. Expenses include film and photo processing; each inflation of the blimp costs $400 for helium. For long trips, we may charge for mileage, lodging and per diem. Field work plus image processing and database development are considered for figuring potential consulting costs of projects.

The region in which we normally are available for consulting is the central Great Plains and southern Rocky Mountains, specifically Kansas, Oklahoma, Nebraska, Colorado, and western Missouri. More distant locations may be feasible in some cases. Our ability to undertake consulting is dependent upon the academic calendar and our weekly teaching schedule. We have considerable flexibility for arranging KAP consulting.

All proceeds from consulting fees and product sales are for non-profit support of education and research in the Earth Science Department at Emporia State University, Kansas.
---
Selected publications
Aber, J.S., Sobieski, R., Distler, D.A. and Nowak, M.C. 1999. Kite aerial photography for environmental site investigations. Kansas Academy Science, Transacations 102, p. 57-67.

Aber, J.S. and Galazka, D. 2000. Potential of kite aerial photography for Quaternary investigations in Poland. Geological Quarterly 44(1), p. 33-38.

Aber, J.S., Aber, S.W. and Leffler, B. 2001. Challenge of infrared kite aerial photography. Kansas Academy Science, Transactions 104(1/2), p. 18-27.

Aber, J.S. and Aber, S.W. 2001. Potential of kite aerial photography for peatland investigations with examples from Estonia. Suo 52, p. 45-56.

Aber, J.S., Aaviksoo, K, Karofeld, E. and Aber, S.W. 2002. Patterns in Estonian bogs as depicted in color kite aerial photographs. Suo 53, p. 1-15.

Aber, J.S. and Aber, S.W. 2003. Applications of kite aerial photography: Property survey. Kansas Academy of Science, Transactions 106, p. 107-110.

Aber, J.S., Zupancic, J. and Aber, S.W. 2003. Applications of kite aerial photography: Golf course management. Kansas Academy of Science, Transactions 106, p. 211-214.

Aber, J.S. 2004. Lighter-than-air platforms for small-format aerial photography. Kansas Academy of Science, Transactions 107, p. 39-44.

Aber, J.S., Eberts, D. and Aber, S.W. 2005. Applications of kite aerial photography: Biocontrol of salt cedar (Tamarix) in the western United States. Kansas Academy of Science, Transactions 108, p. 63-66.

Aber, J.S., Aber, S.W., Pavri, F., Volkova, E. and Penner, R.L. II 2006. Small-format aerial photography for assessing change in wetland vegetation, Cheyenne Bottoms, Kansas. Kansas Academy of Science, Transactions 109, p. 47-57.

Aber, J.S. 2006. Small-format aerial photography for archaeologic applications: Knife River Indian Villages NHS. In Manz, L.A. (ed.), Quaternary geology of the Missouri River valley and adjacent areas in northwest-central North Dakota. North Dakota Geological Survey, Geologic Investigations 24, p. 41-46.

Harrell, K., Aber, J.S. and Sleezer, R. 2007. Ross Natural History Reservation: Six decades of changing land cover and management documented by aerial photography. Emporia State Research Studies 43/2, p. 53-63. See full article (pdf file).

Aber, J.S., Marzolff, I. and Ries, J. 2010. Small-format aerial photography: Principles, techniques and geoscience applications. Elsevier, Amsterdam, 268 p.

Aber, J.S., Owens, L.C., Aber, S.W., Eddy, T., Schulenberg, J.H., Sundberg, M. and Penner, R.L. 2010. Recent Azolla bloom at Cheyenne Bottoms, Kansas. Transactions of the Kansas Academy of Science 113, p. 56-63.

Owens, L., Aber, J.S. and Aber, S.W. 2011. Remote sensing half-century record of environmental changes at Cheyenne Bottoms, Kansas. Emporia State Research Studies 47/1, p. 1-10. See full article (pdf file).
---
All rights reserved; text and imagery © J.S. and S.W. Aber.

Return to Great Plains KAP homepage.
Last update March 2013.