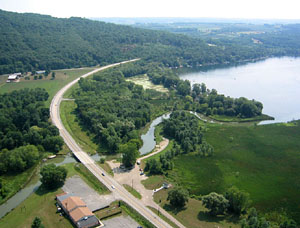 Finger Lakes
New York

J.S. and S.W. Aber


The following aerial photographs were taken on July 31st 2005, during a visit to the western Finger Lakes district of upstate New York. The Finger Lakes comprise about a dozen long, narrow, deep lakes that occupy glacier-carved valleys south of Lake Ontario. They resemble inland fjords. Our primary objective was Lake Keuka, which has an unusual branching configuration. It's also the focus of the Finger Lake wine district. Rich glacial soils and mild climate along the lake margins are ideal for growing many kinds of American grapes as well as French-American hybrid grape varieties.

We experienced hot, hazy, humid weather under high pressure with light and variable winds--not suitable for kite aerial photography. So we utilized a small helium blimp to lift our camera rigs. We set up in a school yard in the small village of Branchport at the northern end of West Branch Keuka Lake.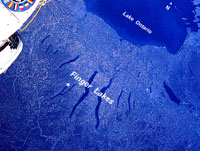 Space-shuttle photograph of the Finger Lake district in western New York. Asterisk (*) marks Branchport, site of blimp aerial photography at the northern end of West Branch Keuka Lake. Image obtained from NASA JSC.
Branchport and Lake Keuka
Superwide-angle view looking toward the southeast over the northern end West Branch Keuka Lake. Guyanoga Creek to left; village of Branchport to right. The blimp flyers are standing at bottom center of scene; several curious folks came by to see what we were doing.
Guyanoga Creek inlet and boat launch to Keuka Lake. The Branchport fire department building is at lower left of scene.
Closeup view of cattail marsh and Guyanoga Creek inlet to West Branch Keuka Lake.
View southward along West Branch Keuka Lake. Branchport is visible in lower right corner of scene.
View southward from "Keuka Corner" road intersection in Branchport.
View toward the southwest showing extensive vineyards adjacent to Keuka Lake.
Italy Hill Road extends westward from Branchport. The Hunt Country Vineyard is located in upper right corner of this view.
Superwide-angle view looking toward the north with the Branchport School in the foreground. Agricultural fields span the valley in the background.
Hay bales in fields either side of Guyanoga Creek north of Branchport.
Closeup view of Keuka Corners, the main road intersection at the center of Branchport.
Closeup view of the Branchport United Methodist Church, established 1866.
---

Return to KAP gallery.
Last update: Aug. 2005.