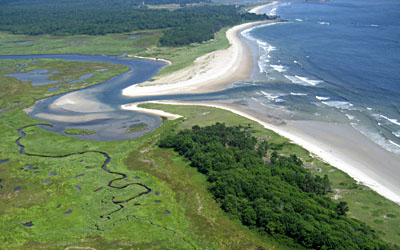 New England Coastal Marshes
Maine and Massachusetts
James S. and Susan W. Aber
Vinton Valentine


New England supports salt marshes and beaches in many locations along the Atlantic coast. We had the opportunity in early August 2009 to conduct aerial photography at several sites in northeastern Massachusetts and southeastern Maine with our colleague Vinton Valentine from the University of Southern Maine. This region had experienced a relatively cool, cloudy and wet summer prior to our arrival. We were lucky to have a few mostly sunny days, and we utilized a helium blimp at most sites owing to calm or light and variable wind conditions. Pictures are presented below for two sites: Wells Reserve at Laudholm, Maine and the Essex County Greenbelt at Rowley, Massachusetts.
---
Superwide-angle views over Wells vicinity, Maine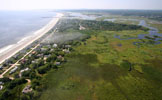 View southward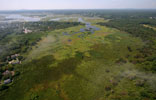 View to southwest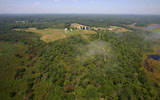 View to northwest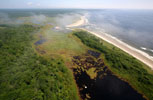 View northward

Banks of puffy fog moved in from the ocean for these photos.

The Wells National Estuarine Research Reserve is located in southeastern Maine adjacent to Little River and Laudholm beach. The reserve was created from the historic Laudholm farm and now includes 2250 acres of protected lands of the U.S. Fish and Wildlife Service, Maine Department of Conservation, Town of Wells, and Wells Reserve. Funding is provided by the Laudholm Trust and NOAA. Habitats include woodland, grassland, fresh and salt marshes, and sandy beach, which are surrounded by developed recreational properties.
| | |
| --- | --- |
| | View toward the southwest shows a bridge on Drakes Island Road in center background. The bridge is part of a water control structure that limits tidal flow between the lagoon in the background and marsh in the foreground. |
| | Buildings of historic Laudholm farm and Wells Reserve headquarters are visible in the cleared area in this view westward. The path in lower part of scene is Old Farm Lane, from which the blimp was launched. |
| | Mouth of Little River on the Atlantic shore. In recent years, sediment has eroded from the near side and built up on the far side of the river mouth--note differences in widths of beaches. Kennebunk in the background. |
| | Closeup view of Little River mouth. Notice numerous meanderings of the main channel and several smaller channels in the marsh area on left, which is a bird santuary. |
| | Expensive summer homes along the Atlantic shore at the northern end of Island Beach Road. Public access to Laudholm beach is provided by a footpath marked by red asterisk. |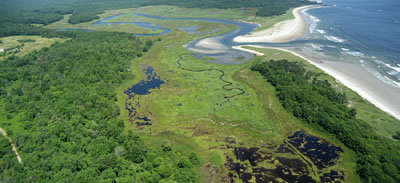 Panoramic view northward showing Little River and Laudholm beach along with marsh and woodland habitats. Assembled from two Canon Elph images.
---
Superwide-angle views over Rowley vicinity, Massachusetts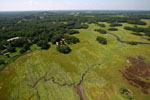 View to northwest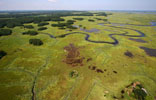 View northward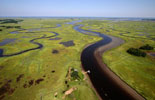 View eastward
View to southeast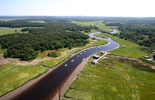 View to southwest

The Essex County Greenbelt at Rowley is part of the Plum Island Ecosystems Long Term Ecological Research site operated by the Marine Biological Laboratory in Woods Hole, Massachusetts. The area includes an extensive saltwater marsh complex that leads into the sound behind Plum Island. The tide ebbs and flows through meandering channels. The region was settled in the 17th century, and salt marshes were farmed for hay until the mid-20th century. This involved cutting numerous linear ditches to drain the surface and lower the water table, which promoted hay growth and facilitated harvesting. The site is utilized now for many research projects and ecological experiments by scientists and students from several universities and governmental agencies.
| | |
| --- | --- |
| | Southwest view inland along the Rowley River toward the marina beyond Oyster Point Road bridge. More wrack is visible in lower left corner of scene. |
| | View northward showing marsh, pools, and complexly meandering tributaries of Rowley River. Main river channel in lower right corner of scene. |
| | Vertical shot of the Marine Biological Laboratory--middle of three buildings on right side, next to Rowley River. Note network of linear ditches on left side of view. |
| | Closeup vertical view of high marsh surface and tidal channels. The wavy pattern of salt hay vegetation, known as "cow lick," consists mainly of Spartina patens and Distichlis spicata. Note the authors standing on left side. |
| | Vertical view of high-speed boat wake and dock for private residence. Tide is low revealing mud banks on sides of Rowley River channel. Shadow of blimp appears in upper left corner of scene. |
Related sites
---

Return to gallery or kaphome.
All text and images © by the authors.
Last update: September 2009.