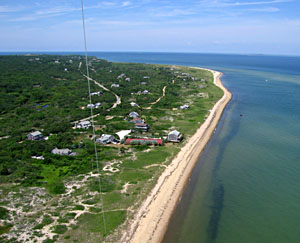 Martha's Vineyard
Massachusetts

James S. and Susan W. Aber


The following aerial photographs were taken in late July 2005, during a visit to the island of Martha's Vineyard, Massachusetts. We concentrated our efforts on the relatively less developed western portion of the island. This part of the island is largely forested (oak and pine), and is mostly private land with quite limited public access and vehicle parking.

We found a small baseball field in Chilmark near Peaked Hill, which is one of the highest points on the island--just over 300 feet elevation. This portion of Martha's vineyard is a glacial end moraine that consists of a series of parallel ridges running NE-SW. The ridges are cored by bedrock blocks upthrust by glacier advance during the ice age. Our second KAP site was on the beach at Lobsterville on the northern side of Aquinnah.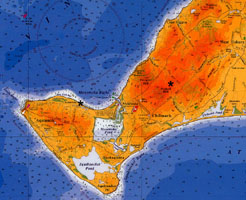 Map of the western portion of Martha's Vineyard. Two KAP sites are marked by asterisks (*). Map adapted from Channel Crossings Press (1999).

Photographs were acquired with two Canon digital cameras, the S230 (3 megapixel) and S70 (7 megapixel). At both sites, we lifted the camera rigs with a large rokkaku in steady sea breezes.
Peaked Hill vicinity
| | |
| --- | --- |
| | View toward east. Patchwork of forest, cleared fields, farms, and country houses. |
| | View toward southeast showing heavily forested terrain of Chilmark vicinity. |
| | View toward south. Coast and Atlantic Ocean are visible in the distance. |
| | View toward southwest. Long clearings and roads follow NE-SW ridges in the landscape. |
| | A secluded house in the forest. |
| | Another secluded country estate. |
| | Our flying site--a small clearing in the forest for a baseball field. |
| | Fog began to form in late afternoon, just as we completed our KAP session at Peaked Hill. |
Lobsterville vicinity
| | |
| --- | --- |
| | View westward toward the end of Martha's Vineyard. The asterisk (*) marks the location of Aquinnah Cliffs on the northwestern tip of the island. |
| | Summer cottages and vacation homes near the beach at Lobsterville. |
| | View toward the southeast over Menemsha Bight and Menemsha Pond. The Atlantic Ocean is visible on the far horizon. |
| | View east toward the Chilmark region of the island. The harbor of Menemsha is situated just right of scene center. High forested ridges at center of view stand more than 300 feet (90 m) above sealevel. |
---

Return to KAP gallery.
Last update: Aug. 2005.