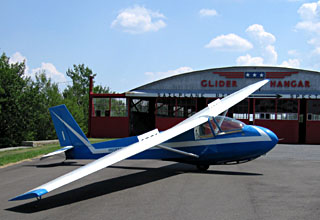 Sailplane Aerial
Photography
J.S. and S.W. Aber
Introduction
Gliders, also known as sailplanes, are really large, manned, untethered kites. Modern gliders are highly sophisticated aircraft that have evolved during the past century, just as powered airplanes have developed. In July 2005, the authors visited the National Soaring Museum on Harris Hill near Elmira, New York. This site has been a focus for sailplanes for many decades. One of us (J.S.) ventured on a demonstration flight with an experienced pilot.

Harris Hill National Soaring Museum.

We flew in a high-performance model that was towed aloft by a small powered plane. Once the towline was released, the glider was completely at the mercy of atmospheric conditions and pilot skill to return to the gliderport. We caught a good thermal and spiralled upward ~2000 feet above the ground. From there we had magnificent views of Harris Hill, Elmira, the Chemung River, and the surrounding landscape.

For airphotos, the Canon S70 camera was set on fast-shutter mode and aimed through a small open window on the side of the canopy. The zoom function was utilized to take wide-angle and closeup pictures (28-100 mm zoom range).

Glider flight
Conventional two-person sailplane on the ground at Harris Hill National Soaring Museum.
High-performance glider. J.S. Aber (back seat) gets instructions about instrumentation and glider operation. Note the small window on canopy (next to pilot's left hand). A similar window on back canopy was used for airphotos.
High-performance glider lifting off as it is towed by a small powered plane.
Tow plane (left) and glider climbing skyward.
Glider has released the tow line, and the tow plane banks sharply to left away from the glider. View toward northeast; Elmira Heights below.
Circling toward the gliderport for landing. Note spoiler extended on wing to brake glider motion.
Glider airphotos
Agricultural landscape on Harris Hill. West Hill Road runs through center of scene. Elmira regional airport is visible in center distance. View toward north.
Gliderport at Harris Hill National Soaring Museum. View toward northeast.
City of Elmira with numerous bridges over the Chemung River. View toward southeast.
View southeastward over the Chemung River valley, south of Harris Hill and west of Elmira. Note the peculiar diamond-shaped field in lower right portion. See closeup view in next picture.
Closeup view of drive-in movie theater; few active outdoor movie theaters are still operating in the United States.
---
Return to KAP gallery.
All text and imagery © by the authors.
Last update Aug. 2005.