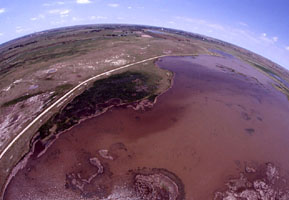 KAP Fisheye Lens
J.S. and S.W. Aber
Introduction
Our Canon Rebel cameras accept a variety of lenses. On the conventional film camera, a lens with 14-mm focal length, known as a fisheye lens, creates a hemispherical field of view. This dramatic view has severe geometric distortion in which the horizon appears strongly curved. Such images cannot be utilized for measurement or mapping purposes, but do provide a broad field of view for reconnaissance of landscapes.

The following examples were taken at Cheyenne Bottoms, a large wetland complex in central Kansas. These picture were acquired in early July, 2004 after a period of rain filled the marshes with shallow, muddy water. Compare the views taken with a standard lens to the fisheye views below. Four oblique fisheye pictures are sufficent to provide overlapping coverage around all points of the compass from a given vantage point.

Standard lens views

View toward west showing marsh and wet meadows with cattle grazing. City of Hoisington is located in far right background, and Blood Creek can be seen in left background.
View toward northeast. Deception Creek enters the marsh near scene center.
Fisheye lens views

View toward east. Kite flyers are standing in lower right corner near vehicles. County road to right, and nature trail across center of scene.

View toward south. Kite flyers are standing near vehicles, scene center. Numerous cattle are grazing in meadow behind the road. Notice strong sun glint from water surface in mid-day summer.

View toward west. Differences in marsh water color reflect variations in sediment (mud) content. City of Hoisington is on the distant horizon.

View toward north. A large bed of dead cattail thatch dominates the center of this scene.

Near-vertical view with horizon visible in upper right corner. Strong sun glint highlights wave patterns on water surface.

Compare with panoramic image of Cheyenne Bottoms.

Return to KAP camera rigs.
---

More airphotos of Cheyenne Bottoms.
All text and imagery © by the authors.
Last update Nov. 2004.