Elsmore, Kansas
J.S. and S.W. Aber
Introduction
Elsmore is a small town in Allen County, southeastern Kansas. It's situated in a largely agricultural setting in the Osage Cuestas region underlain by limestone bedrock. Surrounding agriculture is mixed between winter wheat, summer crops, and pastures for grazing and hay production. Small oil fields in the vicinity produce from shallow reservoirs, and the Union Pacific Railroad passes through the town.

Elsmore was founded in 1888 and populated mainly by immigrants from Sweden. By 1910, its population exceeded 200, and it had a variety of thriving businesses. Like many small, rural communities, Elsmore has lost population and businesses in recent decades. According to the 2010 U.S. Census, Elsmore had 77 residents, 35 households, and 22 families.
Kite aerial photography
Accompanied by students from Emporia State University, we conducted kite aerial photography in mid-April from the cemetery on the southeastern edge of Elsmore. Early afternoon wind was from the west-northwest in the 10-20 mph range. We began with our 11-foot delta and Canon Elph camera rig. After a preliminary round of photographs, we switched to our larger rokkaku kite and heavier Canon S70 camera rig. This combination worked quite well.

The cemetery occupies a triangular plot of land with county roads marking the three sides. We set up in the vacant western corner of the cemetery. The westerly wind carried our kite and camera directly over the cemetery.

Oblique aerial views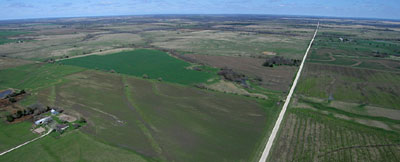 Panoramic overview toward the northeast assembled from two overlapping Canon S70 images. Delaware Road extends directly eastward on the right side.
| | | |
| --- | --- | --- |
| | Close-up views of kite flyers at western corner of the triangle-shaped cemetery. Canon S70 shot (left) and Canon Elph shot (right). | |
Vertical aerial shots
Left: overview showing nearly all of the burial plots. North toward bottom. Right: northeastern corner of the cemetery; north toward right.
Close-up views over the middle of the cemetery; north to right. Many graves are marked by upright tombstones; others have flat stone or concrete slab covers.
Related sites
---

Return to KAP home or gallery.
All text and imagery © by J.S. and S.W. Aber.
Last update June 2020.