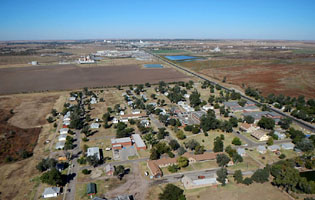 Fort Dodge, Kansas

J.S. and S.W. Aber
Introduction
Fort Dodge was established in southwestern Kansas in 1865 at the close of the Civil War. Its primary function with to protect the Santa Fe Trail from Indian attacks, which had closed postal service and greatly reduced traffic by 1864 (Fort Dodge 2014). The fort was situated on the northern bank of the Arkansas River midway between two important fords at Mulberry 17 miles to the east and Cimarron 22 miles to the west. Initial housing was in sod dugout quarters. Lumber arrived in 1866, and wooden buildings were erected. The fort was named after its first commanding officer, Major General Grenville Dodge.

Permanent stone buildings were constructed during the next two years from locally available sandstone. Lt. George A. Hesselberger was in charge of this project which employed 60 tempsters and 200 mules to haul the stone (Fort Dodge 2014). Many of these buildings still remain in various states of repair. However, the Arkansas River that once flowed full is now dry most years.

Fort Dodge state historical site and Kansas Soldiers Home. Left: Custer House, the residence for officers, constructed of Dakota sandstone. Right: dry channel of the Arkansas River immediately south of Fort Dodge. Vegetation shows evidence of a recent fire.

Soon after the fort came into existence, a cemetery was established nearby along with a general store to serve travelers on the Santa Fe Trail. Both civilians and post personnel are buried in this cemetery. Its most famous resident is Edward Masterson, brother of Bat Masterson (Fort Dodge 2014). The military need to protect the Santa Fe Trail lasted less than two decades. Fort Dodge was closed in 1882, and the site was deeded to the state of Kansas for a Soldiers Home (Fort Dodge 2014). It still serves this role as a retirement and nursing home for Kansas veterans, and a new Kansas Veterans Cemetery was opened 2002. The veterans cemetery at Fort Dodge is one of four in the state (KCVAO 2016).
Aerial photography
In early October 2016, we conducted blimp and kite aerial photography at Fort Dodge along with students from Emporia State University as a class project to document the fort and its surroundings. We were asked specifically to photograph the cemetery area. Light wind in the morning necessitated using a small helium blimp; by mid-day wind was sufficient for a kite.
Fort Dodge
Helium blimp, Canon S70
and Nikon GPS cameras

| | | |
| --- | --- | --- |
| | Looking toward the southwest (left) upstream along the dry channel of the Arkansas River, which flows behind Fort Dodge. Dead trees are evidence of a recent fire. Blimp aerial photography (right) from a mowed field adjacent to the fort and river. | |
| | High-oblique (left) and low-oblique (right) views to the northeast across US highway 400 toward the Kansas Veterans Cemetery. New portion of cemetery to left; older portion to right. | |
Kansas Veterans Cemetery
Small delta, Canon Elph camera

| | | |
| --- | --- | --- |
| | Vertical shots over tombstones in the older section of the cemetery. These grave markers display considerable variation in size, shape, and type of stone. Note extreme relief displacement; stones appear to lean away from photo center. | |
| | A prairie dog town (left) extends northward from the cemetery. Light spots are burrow entrances; note power poles and lines in lower left. Closer shot (right) shows prairie dog burrows up to the edge of the cemetery (lower center of scene). | |
References
Fort Dodge 2014. Fort Dodge, Kansas, Santa Fe Trail, Ford County, Kansas. Accessed online at Fort Dodge November 2016.

Kansas Commission on Veterans' Affairs Office (KCVAO) 2016. No one is ever buried alone, all are buried with honor. Accessed online at KCVAO November 2016.

Return to airphoto gallery or Great Plains airphoto homepage.
All text and images © by the authors (2016).