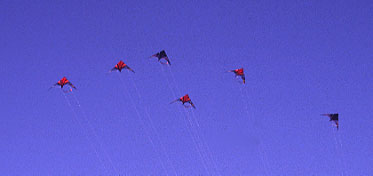 West Lake
Kite Fest

The West Lake kite fest is held annually on the last weekend of March at a recreational lake near Enid, Oklahoma. The festival is a regional kite competition and free fly organized by Thomason's Sport Kites of nearby Lahoma, OK. The West Lake festival is one of the first to open the spring season in the Great Plains region, so it attracts kite flyers from Texas, Oklahoma, Kansas, Colorado, and surrounding states. Click on thumbnail images below for full-size displays.
Views from 1997
| | |
| --- | --- |
| | Competition area of kite festival. A aerobatic kite team is visible on the ground in upper right corner. |
| | Vertical view over staging area. Tents to right are center for scoring, announcements, and sales. |
| | Ground view of giant airfoil kite, which won the "largest kite" award in 1997. |
Views from 1998
| | |
| --- | --- |
| | Low-oblique view over kite staging and competition area. |
| | West Lake, a small fishing and recreational lake, seen here after heavy rains washed in muddy water. |
| | Aerial side view of large dragon kite (above) and "octopus" airfoil (below). |
| | Large airfoil kites seen from above. Octopus in upper right corner, and shark in lower center. Note distinctive ground shadows; the shadow of a dragon kite is also visible to left. |
| | Ground view of kite staging area with many banners, streamers, and spinners. |
| | Ground view of a kite-powered buggy. The buggy is a tricycle, steered by feet on the front wheel, and propelled by a parafoil kite. |
| | Ground view of large airfoil "shark" kite. |
Views from 1999
| | |
| --- | --- |
| | Side view of large airfoil kites. Martin's Legs kite is flying to the right--note shadow on ground. |
| | South flying field and part of West Lake. A large kite arch, giant spinner, and several kites can be seen in this view. |
| | Susie and Jim Aber take kite aerial photographs (left), and spectators watch from vehicles across the road. Susie operates the camera radio controls, while Jim handles the large rokkaku kite that lifts the camera rig. Note the bright reddish-brown soil that characterizes this part of Oklahoma. |


Return to Great Plains KAP gallery.
Images © by J.S. Aber (1997, '98, '99).