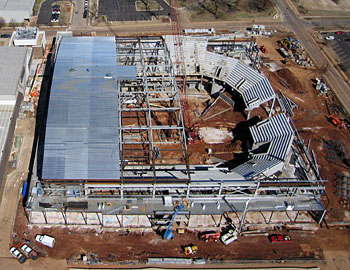 Springfield, Missouri
J.S. and S.W. Aber
Introduction
On Leap Day 2008, we had the opportunity to present a seminar on small-format aerial photography at Missouri State University in Springfield. We were hosted by Dr. Kevin Evans in the Department of Geography, Geology and Planning. The following day, Saturday March 1st, we kicked off the 2008 field season with a demonstration of kite aerial photography on the MSU campus and at Galloway Creek Greenway city park and trail. Several students and faculty joined us for the field demonstrations.

The kite flying conditions were nearly optimum--high temperature ~70°F, clear blue sky, and southerly wind ~15 mph. For the late-morning shots on campus, we used a large rokkaku kite and the Canon S70 and Rebel cameras. In the afternoon wind became a bit stronger. At Galloway trail park we utilized a Sutton Flowform 16 kite to lift our Canon SD600 (elph) camera rig under slightly gusty conditions.
Views of MSU campus and surroundings
Superwide-angle view toward northwest. New basketball arena under construction in right foreground. Downtown Springfield in left background.
Superwide-angle view toward northeast. New basketball arena under construction in left foreground. Student dormatories and parking lots in right background.
Closer view of athletic complex; note baseball game in progress in left background.
Closeup view of new basketball arena and construction compound; note large crane positioned at center of the arena construction site.
View toward the southeast over the central portion of the campus. The football stadium can be seen in upper right corner.
Shot directly toward the east showing tennis courts and several campus buildings.
View southward showing the kite flyers and spectators in a practice athletic field (left). Launching the kite was a bit difficult because of wind turbulence around the buildings, but once the kite rose above buildings the wind was steady from the SSE. Note shadows of satellite dishes (right).
Views of Galloway Creek Greenway
Overview toward the southeast. A railroad line, suburban housing, and small lakes can be seen through the leafless trees.
Closer view toward the south. The walking/bicycle trail follows the railroad on the left. To right, sinkholes and a disappearning stream are hidden beneath heavy tree cover.
Vertical shot of people and a dog on the walking trail.
Shadows of bicycle riders, pedestrians, and a dog on the walking trail.
Closeup vertical shot of people making interesting shadows.
Related sites
Missouri State University--MSU.

Dept. of Geography, Geology and Planning--GGP.

---
Return to airphoto gallery.
All text and imagery © by the authors.
Last update March 2008.