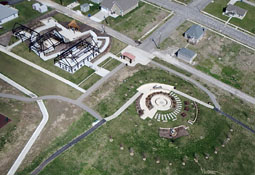 Joplin, Missouri
J.S. and S.W. Aber
Introduction
Joplin, Missouri was struck on May 22, 2011 by a massive EF-5 multiple-vortex tornado that cut a path up to a mile wide and several miles long across the southern portion of the city. More than one thousand people were injured, and 161 died. More than 8000 homes and business structures were damaged or destroyed. It was the single deadliest and most costly tornado in the U.S. since 1950 when official record keeping began.

In the spring of 2015, we ventured to Joplin to see the restoration progress and remaining aftermath four years since the devastating twister. We went to Cunningham Park, a small city park located directly in the tornado path. The park has been rebuilt with the usual playgrounds, picnic shelters, and walking paths. In addition, it has several monuments and memorials to the tornado.

Weather conditions were nearly perfect for kite aerial photography in the early afternoon—clear blue sky, mild temperature, and 10-15 mph easterly wind. We launched the large rokkaku and lifted the radio-controlled Nikon camera rig over the park for oblique and vertical views.
Joplin overviews

| | | |
| --- | --- | --- |
| | Looking toward the south (left) and north (right). Foregrounds show the destroyed zone along with some new buildings. Undisturbed neighborhoods appear in the distance. | |
| | Left: view westward showing empty pavement (left), new housing (right background), and active construction (right foreground). Right: looking to southeast. The chapel on the mound (lower right) stands on the former site of Mercy Hospital, which was heavily damaged and had to be torn down. | |
Cunningham Park

| | | |
| --- | --- | --- |
| | Basketball court, gazebo, and playground (left), and empty swimming pool (right). Note road contruction in process next to the park. Much reconstruction remains to be done along the tornado track. | |
| | Water pools near center of park. Left: curious circular feature is visible in the patchy grass to the right. This is presumably the trace of a structure prior to the tornado. Right: close-up view. Note people standing and sitting, as shown by their shadows. | |

Related site
Tornado, Joplin, Missouri, 2011 from NIST.

---

Return to KAP gallery.
All text and imagery © by the authors.
Last update April 2015.