Spanish Peaks, Colorado
Spanish Peaks consist of "twin mountains" located at the westernmost edge of the High Plains in south-central Colorado. The mountains were formed by magma intrusion of the surrounding sedimentary rocks during the Miocene Epoch, about 22-25 million years ago (Penn and others 1992). Magma solidified to form central cores of the mountains, and magma flowed into fractures to form dikes that radiate into the surrounding landscape like spokes around a wheel hub. Erosion of the softer sedimentary strata has left the igneous rocks prominently exposed in the Spanish Peaks vicinity. The following KAP were taken with the assistance of Steven Veatch of Woodland Park, CO.

Spanish Peaks are visible on the horizon in the center; in the right background the Culebra Range of the Sangre de Cristo Mountains can be seen. The vertical white stripes to the far right are the Cuchara Mountain ski resort. This view was taken from Lathrop State Park (foreground), near Walsenburg, about 20 miles northeast of Spanish Peaks. Photo date 3/99; © J.S. Aber.
East Spanish Peak (left) stands 12,683 feet high, and West Spanish Peak (right) is nearly a thousand feet higher at 13,626 feet in elevation. In the middle foreground is Goemmer Butte (dark rock), the solidified neck of a small volcano. Photo date 3/99; © J.S. Aber.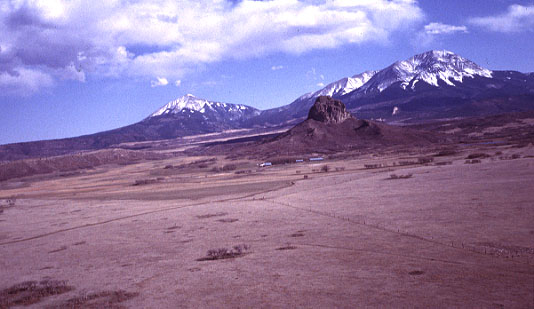 Reference
Penn, B.S., Snee, L.W. and Wendlandt, R.F. 1992. 40Ar/39Ar geochronologic constraints on the intrusive history of the Spanish Peaks area in south-central Colorado. American Geophysical Union, fall meeting, EOS, v. 73, no. 43, p. 657 (abstract).

Return to KAP gallery