Camera and Cradle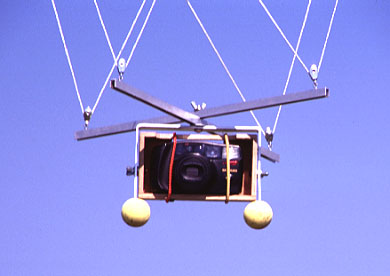 Samsung Maxima Zoom camera and its cradle attached to the Picavet suspension. The camera is secured by a tripod mounting screw, and mini bunge cords serve as safety straps. The right cord also depresses the "landscape" button on front of the camera. The Samsung camera weighs 15 oz. (425 g) including batteries and film.

The cradle consists of a teak-and-oak box attached to an aluminum bracket. Rubber balls (practice golf balls) on the ends of the bracket protect the camera upon landing. Position of the cradle can be rotated 360° horizontally and tilted 90° vertically. Total weight of this rig (including the camera) is 33 oz. (930 g). Photo &copy J.S. Aber.

Return to KAP cameras.