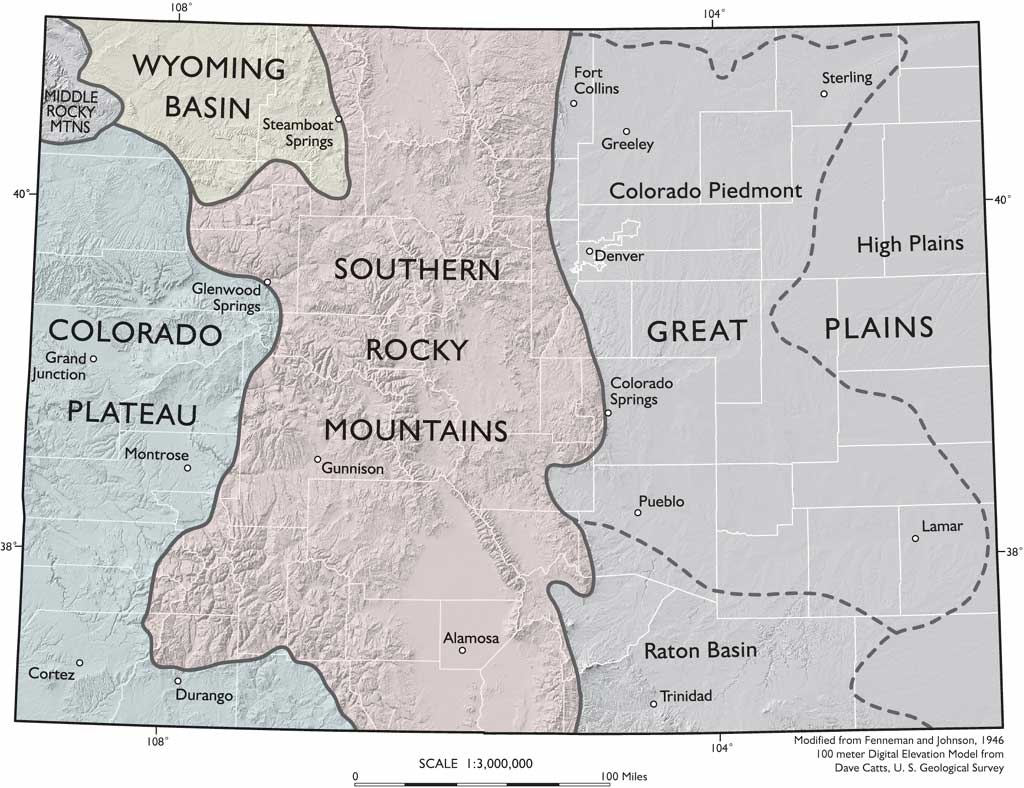 Map taken from the Colorado Geological Survey
geosurvey.state.co.us/Default.aspx?tabid=131
Spanish Peaks and Tinchera Peak are points of interest for field geology and are situated in the physiographic provinces of Raton Basin and Southern Rocky Mountains in south-central Colorado. Physiographic provinces categorize Colorado by overall landscape, vegetation, and physical geology. In these two provinces, elevations range from over 3,000 to over 14,000 feet; vegetation ranges from cholla cactus (Opuntia) to Colorado blue spruce (Picea pungens). The Raton Basin is a relatively flat plain that ramps up to the west and is distinguished by major igneous intrusive features such as East and West Spanish Peaks near La Veta. The Southern Rocky Mountains physiographic province varies greatly from steep, massive mountains such as Trinchera Peak near Cuchara to the large, high desert of the San Luis Valley where Alamosa is situated centrally.

A dramatic change in the landscape is highlighted in the shaded relief map below. The eastern two-fifths of the state is a relatively uninterrupted plain, while an abrupt change in elevation is obvious to the central and western parts of the state. Spanish Peaks rises 7,000 feet above the western Great Plains and are located at the extreme west edge of the Raton Basin province. It is easy to understand that one of the major rivers in Kansas has its headwaters near Leadville, over 10,000 feet in elevation; the Arkansas River exits Kansas at an elevation of just over 1,000 feet, on its way to the Mississippi River and Gulf of Mexico. According to Kammerer (1990), the Arkansas river is the sixth longest river in the United States, at 1,469 miles (pubs.usgs.gov/of/1987/ofr87-242/).