Opposition Effect
The bright spot near the center of the photograph is an example of an opposition effect. It is located at the antisolar point, the position directly opposite the camera from the sun (Lynch &amp Livingston 1995). At this position, no shadows are visible, so the spot looks bright (over exposed) compared to the surroundings; notice the tree shadows. This effect is only visible from well above the surface and is best seen on forest or prairie backgrounds in low-oblique views. This is one of the first KAP taken by the author. Photo location Jones Park, Emporia, Kansas; date 11/96; &copy J.S. Aber.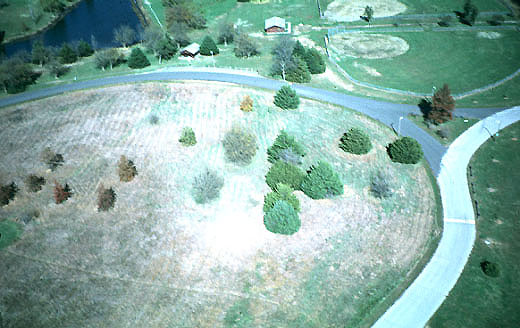 Another example of the opposition effect can be seen in this view from Lake Kahola, Kansas. Note lack of shadows at the antisolar point, upper center of scene. Photo date 11/97; &copy J.S. Aber.
It's rare to see the opposition effect in near-vertical images. But it can happen in mid-summer, when the sun is high overhead. Notice the bright spot near the center of this view at Ross Reservation in east-central Kansas. Click on the small image for a full-sized (120 kb) version. Digital-camera image, date 6/01, © J.S. Aber.
---
Reference
Lynch, D.K. and Livingston, W. 1995. Color and light in nature. Cambridge University Press, 254 p.

Return to KAP special lighting.